September is a month that holds special significance for marketers and advertisers around the globe. It's the month of DMEXCO, the pinnacle event of the digital marketing industry, and we're thrilled to announce that AdTonos is not just participating but proudly serving as a Partner and Sponsor of DMEXCO this year!
DMEXCO, held in the vibrant city of Cologne, brings together leading experts, innovators, and visionaries in the digital marketing space. It's the ultimate platform where ideas are exchanged, insights are shared, and the future of digital advertising is shaped.
At AdTonos, we recognize the significance of this event and are excited to be part of the conversation. DMEXCO represents an opportunity to explore the most exciting marketing topics, delve into groundbreaking technologies, and gain valuable insights that will help us all stay ahead in the ever-evolving world of digital advertising.
Meet the AdTonos Team
If you're attending DMEXCO, we invite you to meet the AdTonos Team in person. We're here to engage in stimulating discussions, share our expertise, and exchange ideas with you. Look out for our experts at booth #D022 in Hall 8, and let's dive into the future of digital advertising together.
Here are the key members of the AdTonos Team you can connect with: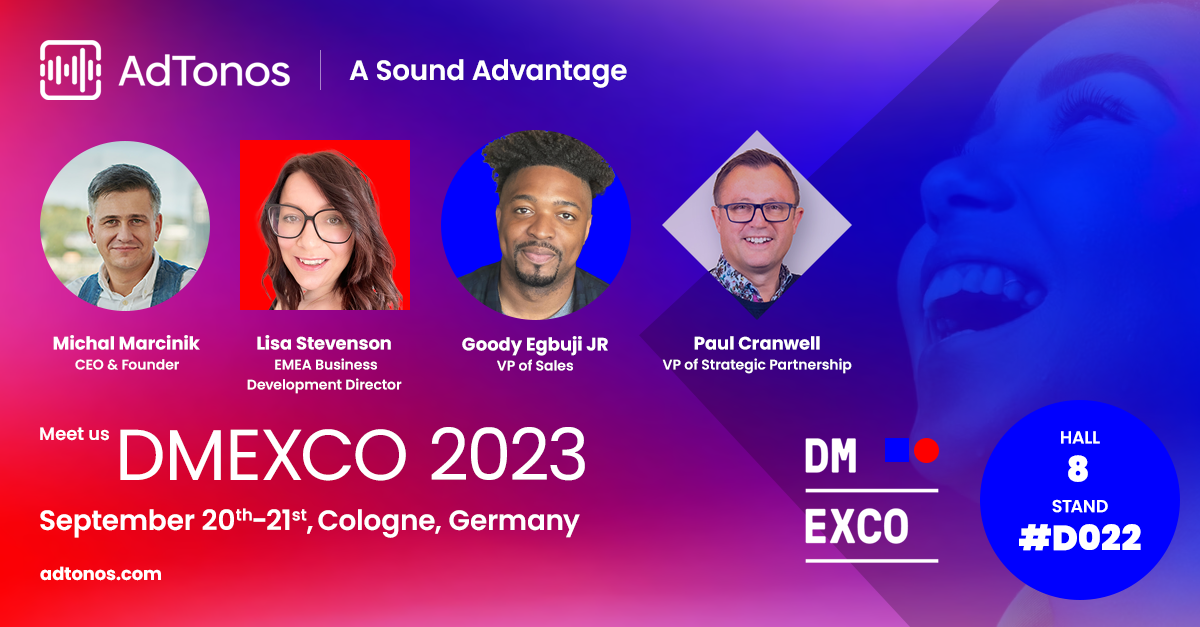 Michal Marcinik, CEO & Founder: With a wealth of experience in the digital advertising landscape, Michal is a visionary leader shaping the future of digital audio advertising.
Lisa Stevenson, EMEA Business Development Director: Lisa brings a deep understanding of the European market and strategic insights to the table, making her a valuable resource for businesses looking to expand their reach.
Goody Egnuji JR, VP of Sales: Goody is passionate about helping brands harness the power of digital audio advertising to reach new audiences. His expertise can open doors to exciting possibilities for your campaigns.
Paul Cranwell, VP of Strategic Partnership: Paul's strategic mindset and extensive network of partnerships can be instrumental in finding innovative solutions to your advertising challenges.
Explore the Future with AdTonos
Are you curious about the future of generative AI and its potential impact on the advertising industry, including digital audio ads? Have you ever wondered how brands and media agencies can connect with entirely new audiences in this ever-evolving landscape?
Feel free to reach out to any of our team members at DMEXCO. We're eager to share our insights, discuss the possibilities, and explore how AdTonos can be a valuable partner in shaping your digital advertising future.
To make the most of your DMEXCO experience and learn about the latest innovations in digital audio advertising, we encourage you to schedule a meeting with our team. Let's explore the exciting possibilities together and ensure that you stay ahead of the curve in the dynamic world of digital advertising.
DMEXCO 2023 promises to be a remarkable event, and we can't wait to see you there. Let's embark on this exciting journey together and make the event an unforgettable experience!