International Games Month celebrates the global gaming community, bringing gamers of all ages and backgrounds together to enjoy the world of interactive entertainment.
International Games Month is a global endeavour spearheaded by dedicated volunteers aiming to rekindle a sense of community through libraries. This initiative emphasises the manifold benefits of games, encompassing educational, recreational, and social aspects. It celebrates various games, from epic fantasy quests such as Dungeons & Dragons and immersive online video games to timeless classics like traditional board games. Throughout November, libraries of diverse types, including academic institutions, public facilities, and school libraries, actively participate in this movement, making it possible for anyone to discover a game to play and a fellow enthusiast to share the experience with, no matter where you are.
Gaming Worldwide
As per the latest insights from Exploding Topics, the gaming industry has rapidly evolved from a niche pastime into one of the most significant sectors within the entertainment realm. This industry exhibits continuous growth, and projections suggest that by the year 2027, its value will exceed an impressive $522 billion.
Relevant data underscores the astonishing scale of the gaming phenomenon, with approximately 3.09 billion active video gamers worldwide. Notably, this number has surged by over 1 billion in just seven years, representing a remarkable 32% increase. The entire video game market is now estimated to be worth an astounding $385 billion, and the contribution of esports players to this figure is on the rise.
On a global scale, the count of active video game players stands at around 3.09 billion. Projections indicate that by 2024, this number will increase to 3.32 billion gamers worldwide.
The United States boasts a formidable contingent of over 3,000 esports players, while Asia is the dwelling place for nearly 1.5 billion gamers. Demographically, 55% of the gaming community comprises males. Furthermore, a significant 52% of gamers are subscribers to at least one gaming service, highlighting the evolving landscape of the gaming industry.
Mobile Gaming Industry
In this digital age, mobile gaming has become a significant part of the gaming landscape, with millions of users across the globe.
According to Statista's projections, the global Mobile Games market is anticipated to yield a revenue of US$89.25 billion in 2023. In the coming years, this market is poised to maintain a steady growth trajectory, with a projected compound annual growth rate (CAGR) of 7.43% from 2023 to 2027. This growth trend is expected to culminate in a market volume of US$118.90 billion by the year 2027.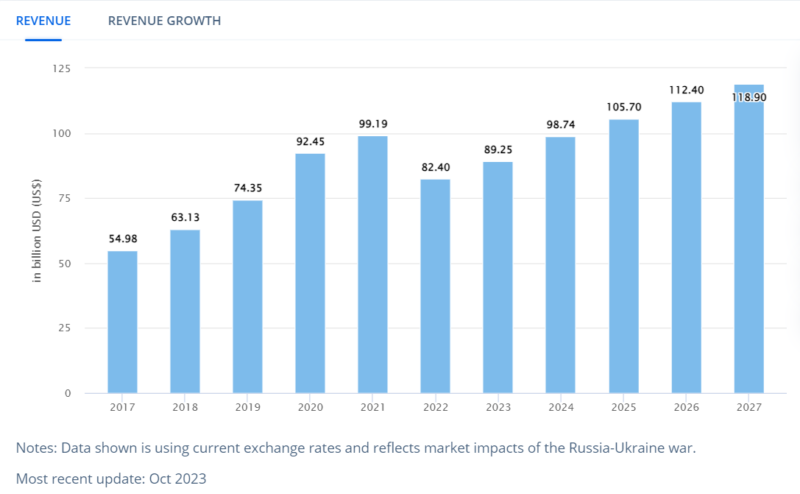 Source: Statista, October 2023
Furthermore, it is anticipated that the user base within this segment will expand to 1.9 billion by 2027.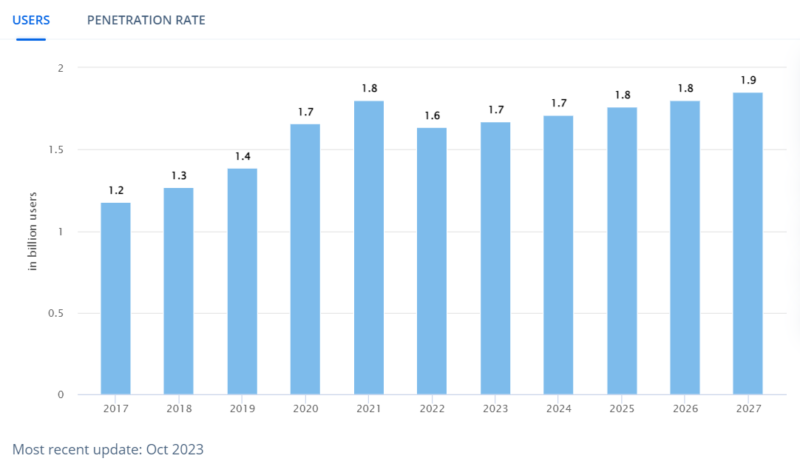 Source: Statista, 2023
Regarding user penetration, the forecast indicates a rate of 21.7% in 2023, expected to climb to 23.3% by 2027.
Source: Statista, 2023
Finally, the anticipated average revenue per user (ARPU) within the Mobile Games market is expected to reach US$53.52 by 2023.
The surge in mobile game revenue in the United States is propelled by extensive smartphone usage and robust consumer interest in interactive and immersive gaming encounters.
According to Udonis by 2023, the number of available games in the app stores has reached nearly 700,000, with approximately 500,000 on Google Play and around 200,000 on the Apple App Store.
In 2022, the leading three mobile markets in terms of consumer spending were identified as China, the US, and Japan, according to data from (data.ai).
Throughout the year, a total of 1,419 apps and games managed to generate revenues exceeding $10 million. Among them, 224 surpassed the $100 million mark, and a remarkable 10 achieved revenues surpassing $1 billion, as indicated by (data.ai).
Statista Analyst said: "While already being by far the biggest Video Games market, the Mobile Games market still bears a huge growth potential for the coming years. New adaptions of the mobile gaming hit Pokémon Go, games like Harry Potter: Wizards Unite and Nintendo's growing support for Mobile Games are essential driving forces for the market's future development. Also, mobile versions of the popular online games Fortnite and PUBG have a huge impact on the market's growth." Source: Statista, Video Games: market data & analysis report, 2023
Demographic Insights on Mobile Gamers
The enthusiasm for mobile games is nearly evenly split between men and women, with 53.6% of the total mobile gaming audience being men and 46.4% women, as reported by (Zorka Agency).
Across various age brackets, mobile gaming appeals to a diverse audience. Younger demographics prominently feature in this landscape, with 28.3% falling within the 16-24 age group and 5% in the 25-34 category. Additionally, older age groups exhibit interest – 23.1% of mobile gamers are aged 35-44, 12.8% are between 45-54, and 6.3% are 55 years old or above, as disclosed by (Zorka Agency).
The average age of a mobile gamer stands at 36 years, according to (MoPub). An intriguing revelation from (Mediakix) highlights that individuals aged 35 and above constitute nearly half of the entire mobile gaming audience, showcasing a broad appeal across multiple age brackets.
Mobile Gamers: Their Interests and Behaviors
According to (Newzoo), both Gen Z and Millennials devote more time to gaming than any other form of entertainment.
Surprisingly, (Mediakix) reveals that 85% of mobile gamers do not consider themselves as gamers.
When it comes to gaming sessions, (MoPub) notes that, on average, women tend to have sessions lasting 25% longer than men. Additionally, 43% of female gamers play more than five times a week, while 38% of male gamers engage in gaming at a similar frequency.
(eMarketer) reports that users allocate 90% of their smartphone usage to apps and games, highlighting the dominance of these platforms in daily smartphone interactions.
On average, gamers engage with two to five mobile games monthly, as indicated by (data.ai).
The daily use of mobile devices amounts to three and a half hours, with 11% of that time spent on mobile gaming, according to (eMarketer).
Statistics on Advertising in Mobile Gaming
The following statistics pertain to 2022 and encompass key findings from the lSocialPeta research. For a comprehensive view, access the complete SocialPeta marketing report here.
Throughout 2022, there were over 37,000 active mobile game advertisers each quarter, marking a 17.5% increase compared to 2021. Contrarily, the quantity of quarterly mobile game ad creatives saw a slight decline, totaling over 12 million, a 15.9% decrease from 2021.
Notably, more than 90% of mobile game advertisers consistently introduced new ad creatives each quarter in 2022.
Analyzing the distribution across genres, the highest percentage of advertisers catered to casual games (27.8%), followed by puzzle (12%), simulation (9.2%), action (8.8%), RPG (6.3%), arcade (6%), strategy (4.4%), casino (4.3%), card (4.2%), and adventure (3.8%).
Regionally, North America contributed the largest number of monthly advertisers.
Regarding the distribution of ad creatives across genres, casual games constituted the highest percentage (22.6%), succeeded by puzzle (12.8%), RPG (11.3%), simulation (8.9%), strategy (8.7%), action (7%), casino (5.6%), card (5.4%), adventure (3.3%), and board games (3%).
Furthermore, in 2022, there were more quarterly ad creatives on Android platforms compared to iOS.
An overwhelming majority, more than 80%, of all ad creatives for mobile games were in video format, while 14% comprised image ads. A small portion, 2.36%, were HTML ads, and another 2.88% were of other ad formats.
Audio Advertising within the Mobile Gaming Sphere
AdTonos, a pioneer in audio advertising, has recognised the enormous potential in the mobile gaming sector and is set to transform the advertising experience for both gamers and advertisers.
Uninterrupted Gaming Experience
One of the significant pain points for gamers has been intrusive video ads that disrupt their gameplay. AdTonos understands the importance of an uninterrupted gaming experience and has introduced an innovative approach. During mobile game sessions, users can now enjoy audio advertising utterly free of interruptions. This approach ensures a seamless gaming experience while presenting relevant ad content to the audience.
Companion Banners for Enhanced Engagement
AdTonos' mobile game advertising includes optional companion banners displayed on the screen during the ad playback. These banners provide an extra layer of interaction and engagement, allowing users to explore more about the products or services being advertised. This unique feature bridges the gap between advertising and gameplay, making the overall experience more enjoyable and informative.
Popular Genres and Target Audience
Mobile gaming caters to a wide range of age genres and is highly targetable. Popular game genres include puzzles, quizzes, casual, simulator, and strategic games, making it a versatile platform for advertisers to reach their desired audience. This diversity allows brands to engage with gamers in a meaningful way based on their interests and preferences.
Brand-Safe Advertising
Mobile gaming stands out as a brand-safe channel because it does not contain user-generated content. Advertisers can carefully select genres and create whitelists to ensure their ads only appear in appropriate gaming environments. This level of control minimizes the risk of ads being displayed in unsuitable contexts.
In-Game Advertising: A Captive Audience
Mobile gaming offers a unique advertising opportunity by providing a more immersive experience compared to other mobile ad formats. Users are actively engaged in gameplay and are in a state of leisure, making it an ideal environment for capturing their attention. This captive audience ensures that your brand's message is delivered in a way that resonates with users.
Cost-Effective and High ROI
In-game advertising empowers brands to engage with consumers through highly focused, targeted promotional campaigns. By reducing upfront expenses and generating a higher return on investment, advertisers can maximize their impact without breaking the bank.
AdTonos' innovative in-game advertising is poised to revolutionize the advertising landscape. It offers a highly cost-effective means of achieving company and sales goals while delivering a superior user experience. As we celebrate International Games Day, AdTonos is paving the way for the future of mobile game advertising, ensuring a win-win situation for both gamers and advertisers.