According to Statista estimates, there will be 2,309.4 million mobile gamers by 2026, and that from October 2020 to January 2021, 39% of surveyed adults were self-professed mobile gamers in the UK. That's up from 23% in the previous year!
Far from taking a backseat post-pandemic, mobile usage is on the rise. Data.ai has reported that every day, the populaces of UK, US, Canada, Brazil, Mexico, India, Indonesia, South Korea, Singapore, Australia, Japan, Turkey, and Russia are spending up to 5 in-app hours a day! In fact, markets like Singapore and Australia upped their usage by 40% since the pandemic – 5.7 hours and 4.9 hours, respectively.
The British Gaming Market
But the title of most voracious gamers globally goes to the Brits! In a survey of 16,000 gamers worldwide, NordVPN found that the average Brit plays games two times longer than international gamers: over 4.5 hours a week, a whopping 98.6% more than other gamers in other countries, to be exact! 
​​NordVPN CTO, Marijus Briedis, noted:
"Brits were big early adopters during the computer game revolution at the end of the last century and they've been in love with gaming ever since. The UK was an important market for games manufacturers in the 1990s. It was bursting at the seams with young fans with plenty of pocket money to spend and, with a cooler climate keeping Brits indoors for much of the year, it meant a nation of gamers was born."
2,981 of all mobile game publishers on Google Play (2%) are from the UK, and 9,326 games on Google Play (2% again) are British, ranking on average 3.8 of 5 stars. On average, these games get over 1.11 million downloads, whereas the global average for mobile game downloads is 552.99k!
Top 10 British Mobile Game Publishers by Downloads
TutoTOONS

ZeptoLab

Kwalee Ltd

Gismart

Ace Viral

BoomBit Games

Game Pickles

First Touch Games Ltd

Cartoon Network EMEA

 MDickie
Source: 42matters United Kingdom Mobile Gaming Statistics 2022
Getting That Dollar
In one of our previous blogs, we noted that globally, publishers and big brands are investing more heavily in mobile games on Android as opposed to iOS. Compared to the global average of 17%, 35% of British publishers' games are accessible both on devices operating on iOS as well as Google Play. Overall, British mobile game publishers will publishing on both stores twice as much as in other markets.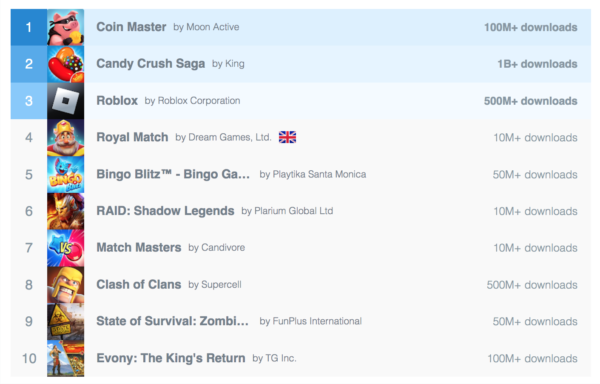 12% of British games are paid vs 4% globally, 69% include in-game ads. 38% of these games use In-App Payments for monetization vs 21% of games globally. But which kinds of games do better in terms of monetisation and downloads in the UK market?
Here's a flavour of the most popular mobile games in the UK: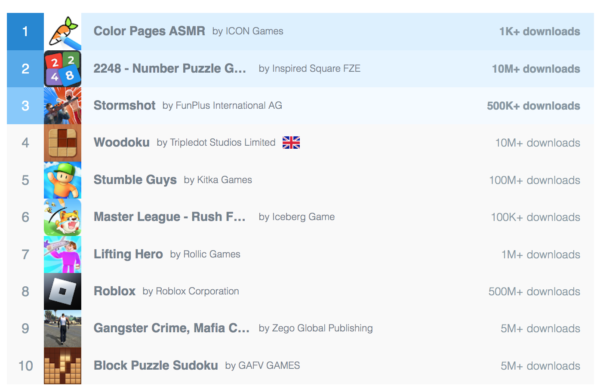 What about the most downloaded British Mobile Games? These include Royal Match, Falling Art Ragdoll Simulator, Crazy Plane Landing, Solar Smash, Solitaire, Soccer Manager 2023 – Football, Cafe Racer, Woodoku, Triple Tile: Match Puzzle Game, and Times Tables Rock Stars!
Another report found that gaming influencers have more sway over their audiences and their purchase intent relative to non-gaming influencers, especially when ads are presented in an entertaining way: 86% of UK and US gaming fans surveyed said they value humour highly, and 68% wanted to see ads that were funny.
The Hows, Wheres and Whys of Digital Audio Ads in Mobile Gaming
So there you have it – you now know the best approach to take when putting together your in-app digital audio ad creative, which types of games have the biggest audiences that could overlap with your target audience, and finally, you know that Sandstorm is the perfect tool to help you place non-intrusive, high ROI ads in-game for a positive in-game experience for players, and easy ad revenue in a brand safe environment with a partner that regularly reaches 3 billion impressions a month across all its adtech solutions! To find out more about Sandstorm, read our blog or get in touch with our team to find out more.