The Audio Advertising Landscape
Since 2020, consumption of digital audio content has increased significantly; up to 26% of the UK population listen to a radio station on a weekly basis, spending an impressive 138 million hours per week listening to online radio. It is estimated that 52% of internet-using UK households own a smart speaker (Digital TV Europe), with global installations of smart speakers set to increase to 640 million smart speakers by 2024 (Statista). Listening to FM Radio currently accounts for approximately 39% of all smart speaker usage. 28% of smart speaker usage involves setting reminders and listening to audio content on Spotify or Pandora makes up 24% of smart speaker use.
Despite the huge potential revenues that can be made through interactive voice ads and audio marketing, many obstacles to success remain. It can be time-consuming and expensive to develop voice-assisted ad campaigns from scratch for companies lacking the pre-requisite infrastructure. Many existing audio ads lack interaction and are inconvenient or convoluted for busy listeners; even interested potential customers may forget to respond or follow-up to ads. Added to these obstacles, there are limited tools that can be used to tailor adverts to unique users via smart speakers, given that they do not allow tracking via cookies. AdTonos offers unparalleled solutions to all the above issues, and boasts high conversion rates in our many successful case studies. 
Multifaceted Audio Advertising with AdTonos
As a comprehensive audio ad suite, AdTonos offers a wide array of solutions to these problems for different audio channels, including radio stations, audiobooks, podcast channels, mobile gaming and online streaming channels across desktop and mobile devices. 
AdTonos developed a solution for audio advertising, where listeners can have interaction with the advertiser through voice-activated ads. YoursTruly is our interactive voice solution for smart speakers and Alexa or voice assistant-enabled mobile devices. As a solution, YoursTruly™ boasts improved measurability of user interaction with ads, click-through rates, and is available on all platforms for independent operators. This product also provides unique listeners with the opportunity to positively shape all subsequent ad experiences and play a part in creating a mutually beneficial relationship between them and advertisers.
A demo of the Alexa YoursTruly app is available here.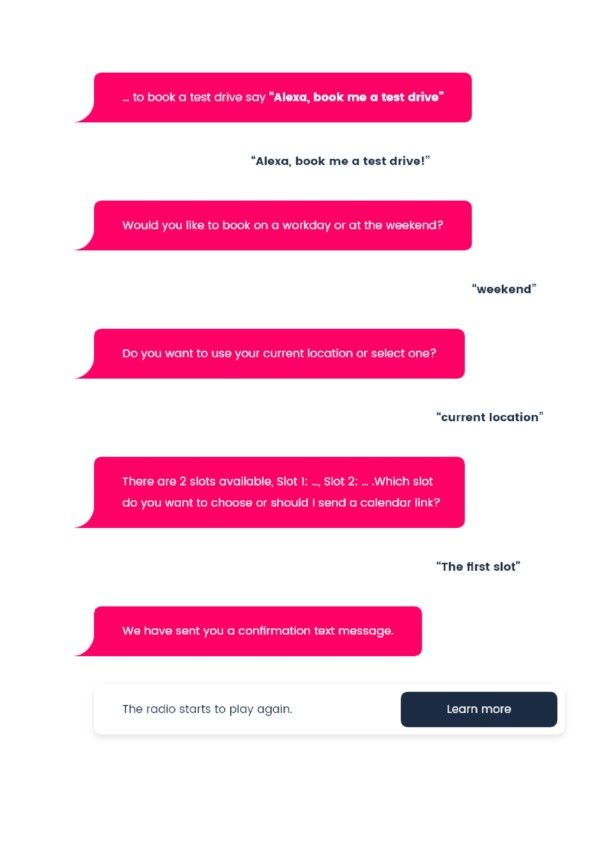 Successful Case Study (Automotive Industry)
In a milestone campaign for audio advertising, AdTonos ran an interactive  audio campaign on radio on behalf of Audi in collaboration with Octave. The scope of the campaign was to direct listeners to their nearest Audi Centre to book a test drive, and to assist listeners in making bookings and emailing them the confirmation for the bookings. Of 547,784 total playouts across Magic, Kiss and Absolute, there were 507 interactions.
Phil Rowley, Futures Director at Omnicom Media Group said of the campaign delivered for PHD's client Audi:
"The first-of-its-kind campaign we deployed for Audi lays the foundation for audio and voice advertising innovation globally. As the channel continues to grow – with the global voice-based smart speaker market predicted to be worth $30bn (£22bn) by 2024 – we're keen to continue exploring audio's strengths as part of fully integrated marketing strategies."
YoursTruly™: Potential Across Multiple Industries
In addition to car dealers, insurers or financial advisers, YoursTruly's booking interaction is well suited to the advertising needs of a variety of activities and clients in different industries, including estate agents, beautician and spa appointments, medical appointments, theatre and cinema outings, gym or dance classes, estate agents, restaurant or hotel and B&B reservations, and transportation.
"YoursTruly is set to drive unprecedented progression across the audio advertising industry. By allowing advertisers to dynamically insert interactive ads in live radio content, the tool paves the way for instant, two-way communication that will not only increase conversions, but also forge stronger links between advertisers and valuable radio audiences." – Michal Marcinik, CEO and Founder, AdTonos