A new era of interactivity for audio advertising
On November 8, AdTonos hosted an exclusive product launch event for YoursTruly to celebrate the best of what today's adtech has to offer. The event provided industry leaders insight into the new era of audio advertising and interactive voice solutions. 
We had the great pleasure to be joined by an audience of over 80 people in-person and even more people online, from DAX, the UK Department of International Trade, VoiceBot.ai, Haymarket, Speechmatics, Clarity Global, Taboola, Global, Uncapped, Azerian, Gartner, Numbereight, Radio Experts, GingerMay, A Million Ads, Triton Digital, The Drum, Nielsen, PHD Media and many more.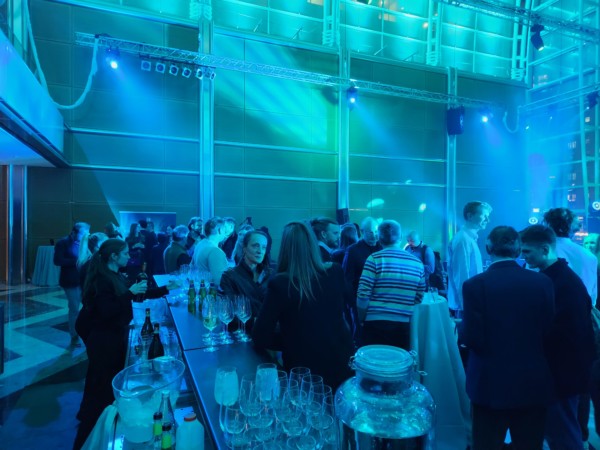 The event kicked off with a music video, telling the story of a man who falls in love with a woman, but is so consumed by the digital world that he neglects her, causing a breakdown in their relationship. In a similar way, the technology requires ongoing investment to fulfil its potential. "Tech is as good as our commitment to it. It's actually the same with love and relationships" explains AdTonos CEO and Founder, Michal Marcinik. He continues: "Audio is an engaging, one-to-one form of communication. It gives brands the opportunity to build a relationship with the listener."
Communication between humans and tech
By 2024, the projected market value of the global voice-based smart speaker market will be $30bn. With smart speaker ownership on the rise, and voice assisted technology like YoursTruly becoming more ubiquitous in our daily lives, more and more tech solutions are becoming interactive. Voice-activated products such as Alexa, Google Assistant, and Siri are fundamentally changing the way we interact with technology forever by creating the space for uniquely tailored, two-way communication between end users and brands.
In a world-first, AdTonos partnered with Octave Audio and PHD Media to launch an interactive ad campaign on behalf of Audi, which featured on Absolute Radio, Kiss Radio, and Magic Radio. YoursTruly enabled listeners with Amazon Alexa-powered smart speakers to verbally book a test drive of the newest Audi model. If the listener said "yes", the ad used geolocation technology to determine the nearest Audi dealer to immediately start the booking process.
A few words from our Board Advisor, Hossein Houssaini
Hossein 'The Hoss' Houssaini shared some of the newest stats around audio consumption globally, as well as successful case studies in the world of interactive audio, for example, the massive success of Nike's BB Adapt interactive audio campaign. Up-and-coming NFL superstars, Kyle Kuzma and Jason Tatum were the faces of this campaign, which garnered an incredible 35,000 clicks and 51 million impressions. Through the power of this voice-powered campaign, Nike's newest sneakers were completely sold out in just 6 minutes!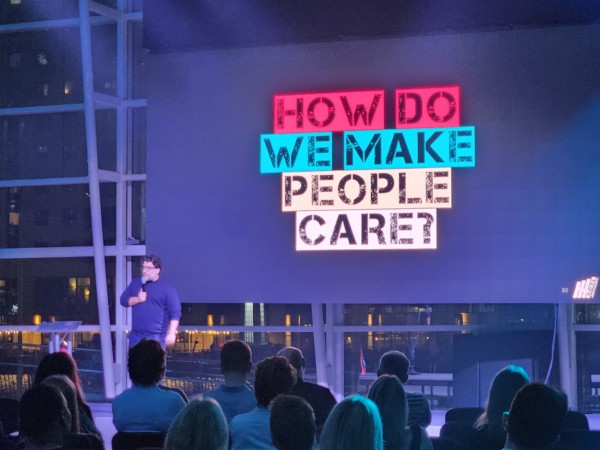 Skill demonstrations with our VP of Strategic Partnerships, Paul Cranwell
The stage was then turned over to Paul Cranwell, who gave an event-exclusive peek into how advertisers can build skills through AdTonos' solutions, and played some showcases of how the product could work in retail and charitable applications and modelled how we can interact with adtech solutions like YoursTruly just through simple voice commands.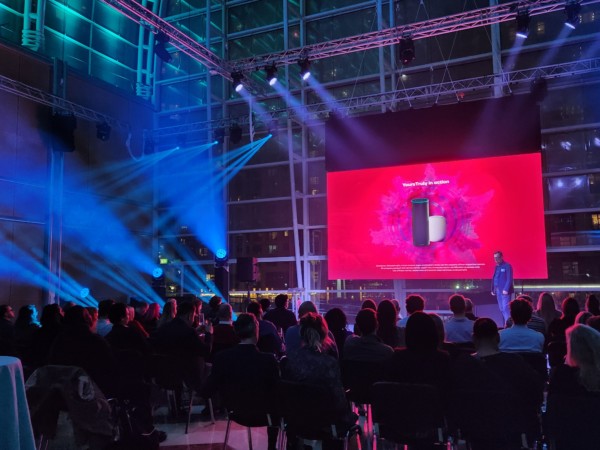 Thank you for joining us on our journey to 2095!
We're very pleased that the event was well-received by our audience, and are thrilled with the feedback we're received so far. The event wouldn't have been half the success it was without the support of our brilliant AdTonos team, the phenomenal support from Production Live!, the team at East Wintergarden, or our excellent partnerships. Thank you to everyone who joined our celebration, and to everyone who played a role in its success. We hope you enjoyed the event and benefited from the networking sessions!
For those who missed out, you can now check out our picture gallery from the event and watch our launch event speeches on YouTube.